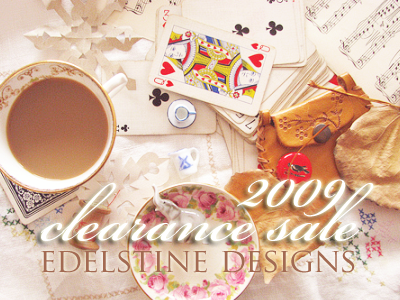 This is my first time having a clearance sale for my jewellery and I am really hoping it goes well! The reasons behind my decision of having one are as follows:

I. Someone commissioned a set of 8 pieces from me, with everything done to her specifications, and ended up not paying. So I have left with 8 pieces and with no one who wants them.

II. I understand the recession has been terrible for some, and so I still want to give them the opportunity of lowered prices without forgoing quality.

III. I want to sell off the older pieces so that they can make way for the newer ones that will be coming up soon for Christmas. There is only so much space on my shelf and on my website. :)

The prices have been considerably lowered, so if you see anything you like, please do help me out and take it off my shelf! ♥

The link to my shop is below (the banner).



SGD $25 + Shipping Fees



SGD $25 + Shipping Fees



SGD $15 + Shipping Fees



SGD $15 + Shipping Fees



SGD $15 + Shipping Fees



SGD $25 + Shipping Fees



SGD $25 + Shipping Fees



SGD $25 + Shipping Fees



SGD $25 + Shipping Fees



SGD $25 + Shipping Fees



SGD $25 + Shipping Fees



SGD $45 + Shipping Fees